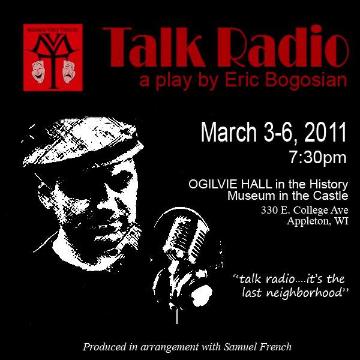 Talk Radio by Eric Bogosian
Maximum Voice Theatre Company presents "Talk Radio", a play by Eric Bogosian based on an idea by Ted Savinar.
Thu, Mar 3, 2011 7:30 PM (CST)
Ogilvie Hall, Appleton, Wisconsin
This event ended Sun, Mar 06, 2011
Ogilvie Hall
330 E. College Ave.
Appleton, Wisconsin 54911
Maximum Voice Theatre's first full production is Eric Bogosian's "Talk Radio", the 1987 Pulitzer Prize Nominee about a shock jock, Barry Champlain, on the eve of his show "Night Talk" going to national syndication. "Talk Radio" was made into a film featuring Bogosian and directed by Oliver Stone and revived on Broadway in 2007 with Liev Schreiber in the title role. Provocative, dynamic, and relevant, this play stands the test of time twenty years later.
Location
Ogilvie Hall
330 E. College Ave.
Appleton, Wisconsin 54911