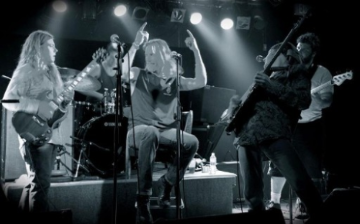 Michael Allman with Marble Garden
Michael Allman-Marble Garden and Sulentic Brothers
Sat, Jan 12, 2013 8:00 PM (CST)
The Loop, La Porte, Indiana
This event ended Sun, Jan 13, 2013
{{ directions }}
The Loop
1344 West State Road 2
La Porte, Indiana 46350
The Loop has a real treat for you this evening. Three awesome well known bands in one night. Couldn't be better than this. Are you ready for a real treat??
Starting of is the Sulentic Brothers. With southern Rock in there soul and Blues in there blood, The Sulentic Brothers will keep you dancing and bring some great memories back into your head! The Sulentic Brothers has worked with MANY national legends, and Now their going to bring it to you live in southern style at the Loop.?
Wow next is line is Marble Garden. The Michigan based blues band Marble Garden is a show filled with some very deep rooted and heart felt song writing. Its been said that you can tell the players apart by there sound. Its true! Marble Garden is a sound all their own but with a feel of The Allman Brothers and a dash of funk thrown in. You will see one of the greatest slide guitarists on the circuit.?
If that's not enough, let's go one step further. Michael Allman rounds out the show. Michael Allman is the son of the legendary Greg Allman of the Allman Brothers. Michael has been taking the blues world by storm and the clouds don't look like there letting up any time soon! Michaels CD "Hard Labor Creek" is a classy but hard look at a man who has lived the songs! Want to relive the Allman Brothers? Come check out Michael Allman, a man for the music only at the Loop.?
This is a show you'll talk about for years. At a mere 15-bucks, three of the best are live at the Loop in one night.?
Location
{{ directions }}
The Loop
1344 West State Road 2
La Porte, Indiana 46350