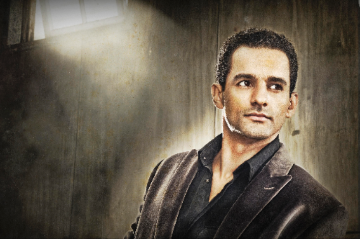 Huey Dunbar @ The Amber Room (below The Murrat)
Huey Dunbar Live in Indianapolis on November 23!
Wed, Nov 23, 2011 10:00 PM (EST)
Las Americas @ The Amber Room, Indianapolis, Indiana
This event ended Thu, Nov 24, 2011
Las Americas @ The Amber Room
502 N. New Jersey St. Indianapolis, IN 46202
Indianapolis, Indiana 46202
Huey Dunbar was born in New York City of a Puerto Rican mother and a Jamaican father. He grew up on the streets of Harlem, Washington Heights, Queens, The Bronx and spent a few years of his childhood living in Lares, Puerto Rico. Showing vocal ability by the age of 3, his mother motivated him to sing, eventually exposing him to many different sounds/genres of the 50's through the 80's and 90's and was instrumental in helping him develop a profound love for his Puerto Rican roots.
In 1996, Huey Dunbar's influence and talent was given a platform to flourish, as lead singer of DLG (Dark Latin Groove). DLG's sound drew from Huey's strong cultural background, influenced by his Puerto Rican/Jamaican roots, which organically became known to the world as a fusion of Tropical music– Salsa, Reggae and Hip Hop/R&B. As a result, young audiences from all over the world became enchanted with DLG's first album, "Dark Latin Groove". The album's first single, "No Morira", dominated the number-one position on the Latin Billboard charts for six consecutive weeks. The second single, "Todo Mi Corazon", also reached the number-one slot, earning DLG their first Grammy nomination.
In 1997, DLG released their second album, "Swing On". It doubled the first album's sales, reaching triple platinum status in the Latin market, in the United States as well as in Colombia, Costa Rica, Uruguay and Peru, setting new records and securing huge opportunities for future artists offering similar genres of music. It contained hit singles like "Juliana", "Magdalena, Mi Amor" and "La Quiero A Morir", which reached and maintained the number-one position on the Billboard Tropical list for several weeks. In 1999, DLG released their third album, "Gotcha", granting them their second Grammy nomination, with hits "Volveré" and "Aveces Me Pregunto", opening the market to this genre of music in countries where it was not typically heard such as Spain, Bolivia, Argentina and Uruguay.
In 2000, the release of "DLG's Greatest Hits" included number-one favorites from the past as well as the hit duet, "Que Locura Enamorarme De Ti". That same year DLG gave their last performance and Huey Dunbar began to embark on his solo career.
In 2001, Huey released his first solo album, "Yo Si Me Enamore" which included Huey's signature fusions while simultaneously exploring other Latin genres such as Bolero, Balada, Latin Pop and rhythms of Son. The album contained hits, "Con Cada Beso", "Amor De Siempre" as well as the title track, "Yo Si Me Enamore". It earned Huey Dunbar the acclaimed Premio Lo Nuestro, a Latin Billboard Award for "Best New Artist", a Latin Grammy nomination and RIAA Awards for Certified Gold & Platinum.
In 2003, Huey released his second solo album titled "Music For My Peoples" where, once again, he exhibited his influences and talent of bringing different flavors of music together including R&B, Dance, Hip Hop, Reggae, Tropical and Caribbean rhythms. Showcasing a plethora of range, it helped highlight new talent with the participation of up and coming artists and producers and contained the title track for "Chasing Papi", a film distributed by 20th Century Fox.
In 2010, after an absence of almost seven years, Huey Dunbar once again reaches out to audiences with his vocal ability and signature sound that to this date has remained unmatched. His newly released third solo album, "Huey Dunbar IV" debuted at number-two on the Latin Billboard Charts and has been received with appreciation and praise from Huey's long-time fans and new ones alike, a direct indication of the void left unfulfilled during his absence. The first single "Te Amaré" has already garnered the top positions in sales and radio play and sets the stage for an upcoming world tour.
From the beginning of his career, Huey Dunbar set precedence and helped pioneer a new genre of music, catapulting its success throughout all of Latin America, Europe and Asia, where his fans still remain faithful. Its effects are prevalent, now more than ever, in the fast growing Urban Latin music culture, and the existence of Latin rhythms and sounds found in mainstream American Pop music. The journey that began many years ago carries on, stronger than ever, as Huey Dunbar continues to share his indescribable sound and unmistakable voice throughout the world.
Location
Las Americas @ The Amber Room
502 N. New Jersey St. Indianapolis, IN 46202
Indianapolis, Indiana 46202