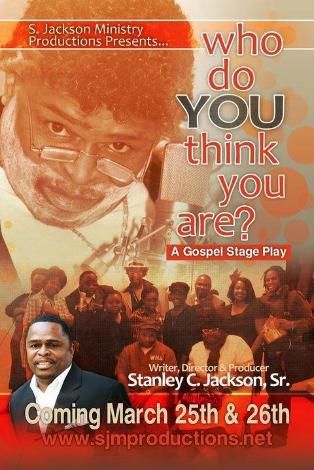 "Who Do YOU Think You Are?"
Gospel Stage Play
Fri, Mar 25, 2011 7:00 PM (CDT)
CENTER OF HOPE EVANSVILLE, Evansville, Indiana
This event ended Sat, Mar 26, 2011
CENTER OF HOPE EVANSVILLE
808 S.E. 3rd ST
Evansville, Indiana 47713
Here's a play that promises to please! Armed with a cast of talented singers, actors, musicians and just plain crazy folk, S. Jackson SR returns with his second original Stage Production "who do YOU think you are". If you missed last years hit "yet holdin on", you don't want to let this one slip by without getting your chance to laugh, cry, sing, and get your dance on! Ole Luther, Elroy, and Leon meet in the barbershop everyday to remind us that all the praise belongs to God. Oh Yeah! they have lots of other things they talk about as well! Nothing is off limits! I bet you didn't know that a lot more goes on at choir rehearsal than just singing! what a mess! But they all come together for Junior's big day, Kind of!
Held at the Center of Hope Evansville @ 808 S.E. 3rd ST in Evansville IN, it is the goal of Jackson's production company (S.Jackson Ministry Productions), to be a blessing to other ministries within the community. The Center of Hope Evansville (centerofhopeevansville.org) continues to work to provide ministry and meals to homeless men, women, and families in the Evansville community. Poised with the support of his home church family, The Nazarene Missionary Baptist Church, Jackson is keeping it moving by delivering another Entertaining performance with More Original Music, More Laughs and More Messages.
A Great Way to Spend the Evening!
Get Your Tickets Now! VIP Seating for first 200 of each show!! Seating is limited!!! Don't Miss It!!
Location
CENTER OF HOPE EVANSVILLE
808 S.E. 3rd ST
Evansville, Indiana 47713